We warmly welcome you to the church in Dallas. We are believers in Jesus Christ from all backgrounds who gather locally to be the Lord's testimony in Dallas. We have listed some frequently asked questions below. Read through some of our responses to these questions or ask us a question of your own using the form on our contact page.
I'm looking for fellowship, but I'm not ready to attend a Sunday meeting yet. Can someone visit me or call me?
Absolutely. Attending a Sunday meeting is not the only way to have fellowship with us. If you leave your contact information, using our form on our contact page, we will be sure to contact you promptly and in a manner that makes you most comfortable.
Are there facilities for children and teenagers?
Yes, ministering to families, including children and teenagers, is an important part of our responsibility and stewardship. Most of our meeting venues have comfortable facilities for children and teens, and we typically have age-appropriate classes or sessions each Sunday.
What should I expect when I come to a meeting?
You should expect a warm welcome and to meet some joyful Christians. We love to sing with our heart to the Lord and to speak to one another in psalms and hymns (Eph.5:19). Our gatherings are characterized by mutuality: we encourage praise, prayer, and speaking Christ to one another (1 Cor. 14:26). Our meetings are frequently punctuated by "Hallelujah!", "Amen!", "Oh Lord Jesus!", what Psalms 100:1 calls "a joyful noise to Jehovah" (Psa. 100:1; 1 Thes. 5:16; Phil. 2:11).
If your worship style is more meditative, you will also feel comfortable meeting with us. We are not for any particular outward form, practice, or liturgy. Our only goal is to worship the Lord in spirit and truthfulness (John 4:24).
Is there a dress code?
We have no dress code, and we simply encourage you to be led by the Spirit in all things (Rom. 8:14).
Who is your pastor?
God's intention is that all of His believers would serve Him as priests (1 Pet. 2:5). All Christians have the innate capacity to contact God, worship God, be filled with God, pray to God, speak for God, and represent God (Acts 1:8; 1 Cor. 14:31; 1 Pet. 2:9; Rom. 1:9). All believers are encouraged to speak and share their enjoyment of the Word and their experiences of Christ.
We also treasure and are edified by the gifts that the ascended Christ has given to the Body: the apostles, prophets, evangelists, and shepherds and teachers (Eph. 4:11). Many serve as shepherds and teachers among us, including the elders of the church, along with others who have the spiritual gift of shepherding and teaching (1 Pet. 5:1-3; Acts 20:28). The gifted ones in the church help the believers to grow to their full function and to be firmly grounded in the truths of the Bible.
What denomination are you?
We are not part of any denomination. We follow the New Testament pattern, which shows Christ's believers congregating only on the basis of the locality in which they live (see Acts 8:1; 13:1; Rom. 16:1; 1 Cor. 1:2). Since we live in Dallas, we meet simply as the church in Dallas, which is and includes all believers of Christ in Dallas. As the church in Dallas, we receive all the believers in Dallas, as Christ has also received us (Rom. 15:7).
Meeting in Mutuality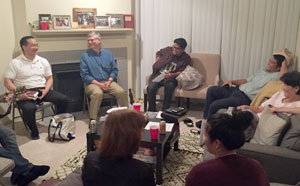 We practice mutuality in the meetings. This practice is based on verses such as 1 Corinthians 14:26 which says, "Whenever you come together, each one has a psalm, has a teaching, has a revelation, has a tongue, has an interpretation. Let all things be done for building up."
For example, participants are free to request hymns, share testimonies, or offer prayers for mutual edification. A significant example of this practice is the "prophesying meeting," in which members endeavor to "speak for God and Christ and speak forth God and Christ."
Still Have Questions?
If your question has not been answered, feel free to contact us anytime and let us know how you would like to be contacted.